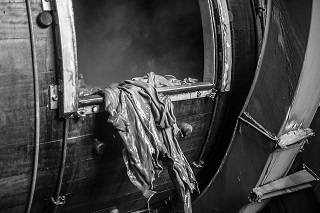 Vegetable tanned splits
13-07-2021 18:21
- News&Fairs
The "vegetable splits", as defined by the sectorial lexicon, consists in the "split of vegetable tanned leather".
Why "split"?
Because the product becomes available after having "split" ("in crust") the full thickness leather just before it is put into production, in the "finishing" department, for the final coloring. It is therefore the lower layer of a vegetable tanned leather and corresponds to a non-smooth leather.
What uses is the "SPLIT" suitable for?
Multiple uses: linings, reinforcements, partitions, insoles, buttresses, objects, pyrography, but also subsequent and accurate finishing for leather goods.
For this reason, those who love it and have dedicated themselves to it with passion for a lifetime find it hard to define it as a "by-product" and are committed to continuing to find its rightful place in the market.
It is good to bear in mind that the "split" is part of a sector, that of the "VEGETABLE TANNING", which carries around the world the tradition, experience and skills that distinguish us and place us on the top step on the podium the many products of our "Italian pride"!